Solidres for WordPress v0.1.0 BETA 1 is released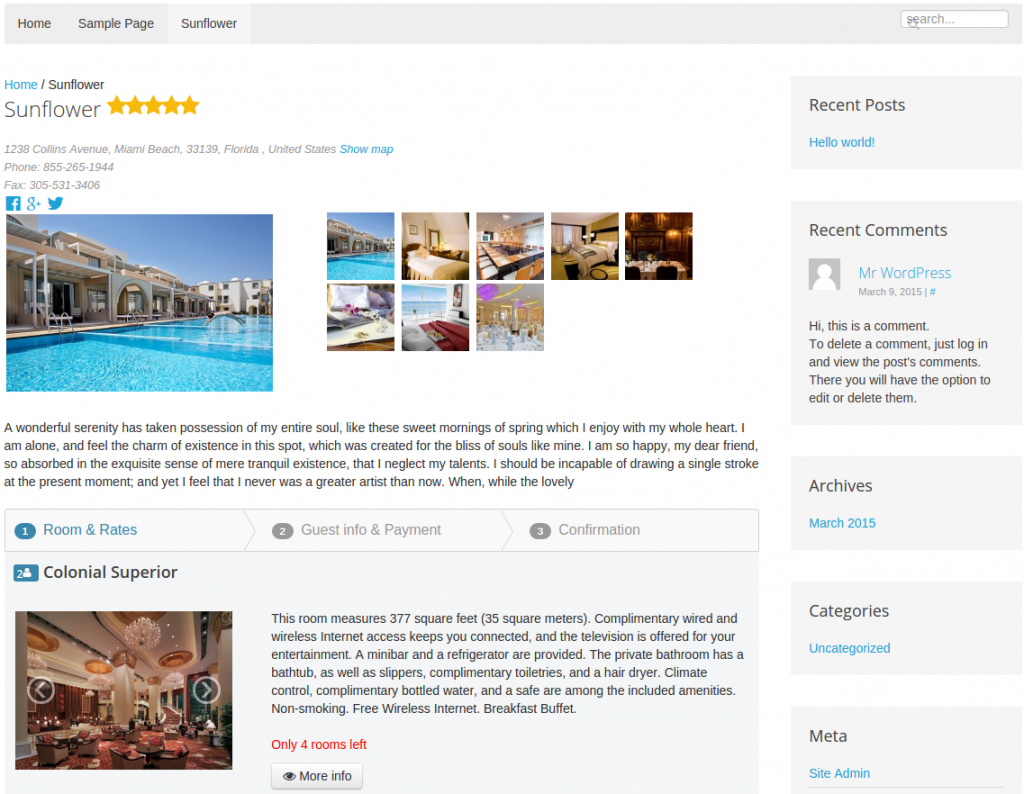 Since our announcement in Sep 2014, we have worked very hard to develop Solidres for WordPress and now it is time for the first public release. You can download it in our Downloads section or see the demo.
The features set of Solidres for WordPress v0.1.0 BETA 1 is almost the same with Solidres for Joomla v0.7.2. We are still working to keep it up to date with Solidres for Joomla v0.8.1. This release is considered as BETA, therefore it should be used for testing purpose only. We are also working to bring commercial features to WordPress as well, please stay tuned.
Below is a quick installation procedure:
Download Solidres_Wordpress_Full_Package_0.1.0_BETA_1.zip
Install it like a normal WordPress plugin
Go to menu Systems – Install sample data to get some data ready for testing
Create 02 WordPress pages:

The first page should have the same slug with your asset's alias.
The second page will be served as a "Reservation completed" page.

Go to menu Systems – Settings – Pages and select the first page for field "Single asset", then select the second page for field "Reservation completed".
Go to menu Settings – Permalinks and choose a setting which is different than the default one.
Go to Appearance – Menus and insert the first page into your WordPress menu.
Until the stable release, we still have a lot of works to do. If you found any issues, let us know by posting in our forum.
Trackback from your site.