Summer releases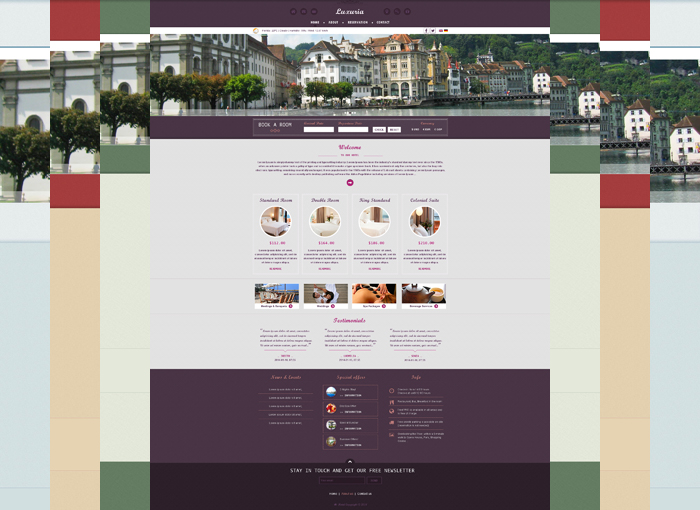 We are glad to announce our summer releases, includes:
Please click on each release to see more details:
Solidres 0.7.0
New features:
Multiple tariffs (requires Complex Tariff 0.3.0)
New User plugin: once this plugin is installed and enabled, guests can register an account with your site while making reservation. Then next time they just log in and their info will be pre-populated for them, making reservation process faster and more convenient.
Responsive email templates: all email templates in Solides are now responsive and more professional.
Use Joomla's JLayout for all reservation forms (steps 1,2,3) as well as in emails/invoice templates instead of hard code in the controller or in external templates files like previous versions. This feature makes it super easy to make a template override for those forms/emails template/invoice templates.
New parameter to allow choosing between currency code and symbol to be used in displaying prices.
New option to disable/enable coupon feature.
Add new field VAT in reservation step 2.
Add more currency format options with space between currency code/symbol and number.
Add ability to link a room type from module room types to the asset's page through anchor link.
Add extra description in a bootstrap popover in front end to provide guest more information about each extra item.
Add CSS class for days in the past in availability calendar.
Add logo field for asset. This logo will be used for email and invoice templates.
Add new fields for extra item: article and image. Those new fields are used in our new mod_sr_extras to showcase your extra items in frontend.
Add new fields for coupon item: article and image. Those new fields are used in our new mod_sr_coupons to showcase your coupons in frontend.
Make datepicker shows inline to be compatible with mobile devices.
Add new option to configure date format for the whole system.
Send email to the asset's partner after a new reservation is made: this feature requires User plugin.
Add carousel effect to showcase room type's photos.
Improvements:
Highlight mandatory fields in reservation steps
Add more useful info into post-installation screen.
Show popover by click, not by hover so that it can work nicely with mobile devices.
Update several JS libraries bundled with Solidres
Add it-IT, pt-BR, el-GR, ru-RU translations into Solidres 0.7.0 package.
Bug fixes:
Custom payment methods name not showed in email/invoice templates.
Fix PHP notice message related to coupon_id
Make tariffs a required fields to prevent front end error when no tariffs are defined.
Add total cost of extras into email templates.
Fix PHP fatal error when no asset is selected for menu type "Show a single reservation asset".
Fix compatibility issue between SEO settings and Ajax calls/
Fix PHP notice message related to Paypal plugin.
Fix date picker broken with Google Translate.
Fix room type name and extra name are not translated by Falang in email template and reservation edit screen.
Force currency formation option in email/invoice templates to follow global options.
Fix PHP notice message related to saving room preferences.
Fix issue when Falang translation page is too wide.
Fix issue when creating new room type with no rooms.
Fix deleting asset failed because of limit booking plugin.
Google Maps brokens when HTTPS is enabled.
Auto scroll to Joomla system message when it shows up.
Brand new Joomla template for Solidres – Luxuria 1.0.0:
[Live Demo for Bundle subcriber] [Live Demo for Hub subcriber]
04 predefined colors.
Latest Warp 7 with LESS compiler.
Full Hub support.
Different quickstart package for Bundle and Hub subscribers.
New modules for Bundle subscriber: mod_sr_coupons and mod_sr_extras.
New module for Hub subscriber: mod_sr_assets.
Support for AcyMailing and Freestyle Testimonials extensions.
Hub 0.2.0
Add support for multiple tariffs feature.
Add carousel effect to show case asset's photos in search results page.
Add support for new Statistics plugin 0.2.0
Fix issue when table for Theme feature is not removed during uninstallation.
Improve compatibility with 3rd templates.
Complex Tariff 0.3.0
Change value of field valid to according to field valid from when add/edit tariff.
Make price input field as required.
Improve layout, make it more responsive.
Add de-De, es-ES, it-IT translation in addition to the default en-GB.
Add limit checkin field.
Invoice and PDF 0.2.0
Separate Invoice library with Solidres to make update process easier.
Update TCPDF library.
Improve performance
Remove unused fonts to reduce plugin's size.
Refactor all email/invoice template to use JLayout
Use Solidres's date format for invoice template.
Fix issue when font can be not set correctly.
Statistics 0.2.0
Add support for Hub.
Layout refinement.
Now trashed and cancelled reservation are not taken into calculation.
Paypal 0.4.0
Add Paypal Basic Authorization
Cielo 0.2.1
Module Room Types 0.2.0
Add carousel effect to show case room type's photos.
Add option to configure number of item per row.
Module Assets 0.1.0 (NEW)
This module is similar to module room types but for showing assets, this is used with Hub plugin. Features: showing photos in carousel or circle slider effect. Showing assets from a predefined location or list of asset's id. Option to configure number of item per room, total items, show random and display type (grid|list).
Module Coupons 0.1.0 (NEW)
This module is is used to show coupons in front end.
Module Extras 0.1.0 (NEW)
This module is used to show extra items in front end.
Module Advanced Search
Add support for inline datepicker
Update notes
Backup your website (files + database).
Download 0.7.0 and install using Joomla Extension Installer, it will automatically update your old version. Or you can update using the built-in Joomla Updater.
If you are subscribers, make sure all plugins/modules are compatible with 0.7.0 by installing latest versions of them.
Trackback from your site.